Posted by The Broken Eventer on 17th Feb 2021
The lovely Darcie, from The Broken Eventer gave us a lovely review of the socks.
"It's your setback superstar (the Vertigo tablets clearly aren't helping my mental stability).
So 97% of my socks are single, and you don't see them crying about it. Can I talk about socks forever? probably. Let's find out:
I've had the same socks for years, they're lonely, faded, mostly missing in action and suffering from a deadly disease which causes holes in the heel. My sock drawer is as tragic as my love life.
For someone who doesn't particularly like feet, I am quite particular, as despite my strong woman persona my little (size 5) tootsies are as delicate as my ego. I researched socks to such an extent, I would be embarrassed to raise it in a public forum. Of all places, I stumbled across coolhorsesocks.co.uk on Instagram marketplace.
I bought the "All you need is..." Socks in navy (photo below).
Now, I could ramble on for days about being a print fanatic and getting lost in the various designs on offer. I was impressed to see that the socks also had the technical element included:
- Coolmax fabric knitted into a cushion soul. Keeping you dry when it counts
- Micromesh venting
- Ribbed arch and ankle to prevent sock slippage in the boot
I normally wander around with three pairs of socks (all varying in number of holes) but I risked frostbite for this review, that how serious I am before sharing products with you all. I can confirm that despite it being 0 degrees, my toes remained happy. They didn't even turn slightly purple which for £8.99 I was delighted. I was anticipating remortgaging the house I don't have and revamping my sock collection, alas I now have a more affordable option.
They even have a competition range which are 47% thinner for less bulk in a range of colours without the print design (for those who don't want a party south of the knees).
No more holes after hacking round the block!
You can view the range here
You can also get 10% off your first order by subscribing to their newsletter:
https://www.coolhorsesocks.co.uk/
I can't recommend this company enough and to add a little cherry on top, they're a small company and someone definitely does a little dance everytime you make a purchase.
Now, let's discuss some whale socks..."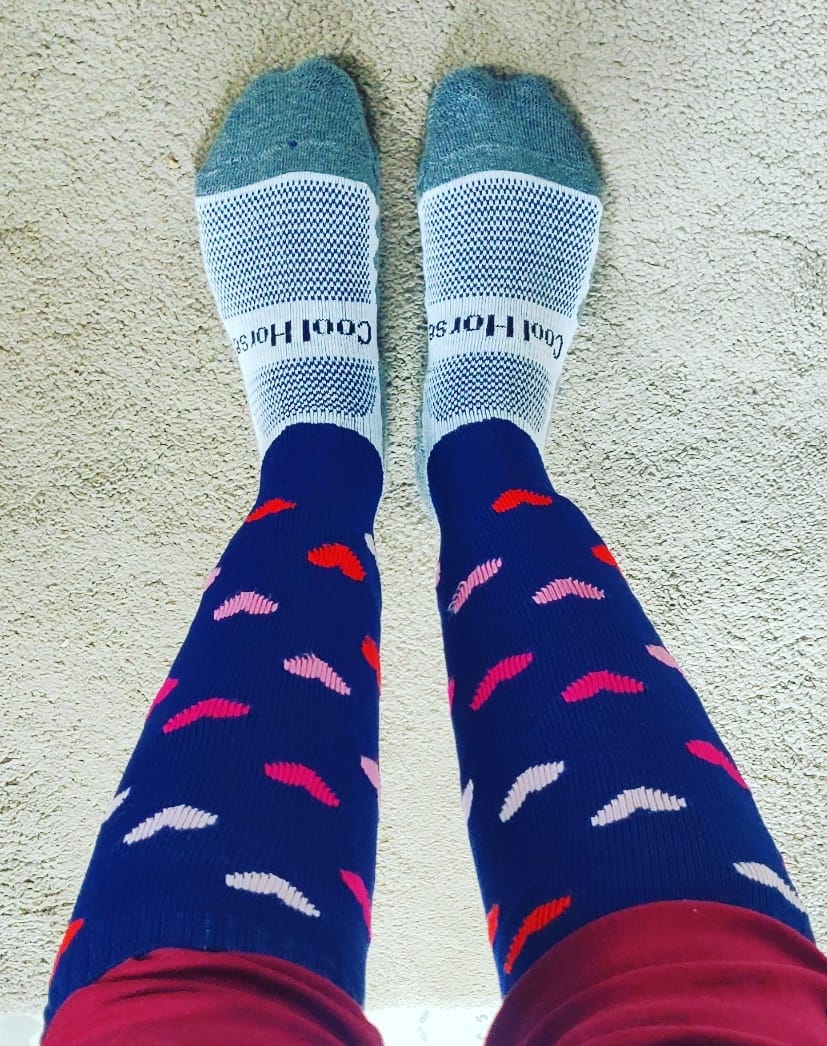 Follow the Broken Eventer here