Posted by @gemeventing on 20th Oct 2019
Hello ev

eryone I am Gem Gilbert also known as @gemeventing.
My horse Conner is well known for his blue eyes and is a unique coloured marked horse. We enjoy low level eventing and BRC competitions, So we are either training or competing, and I pretty much live in jodhpurs and long socks.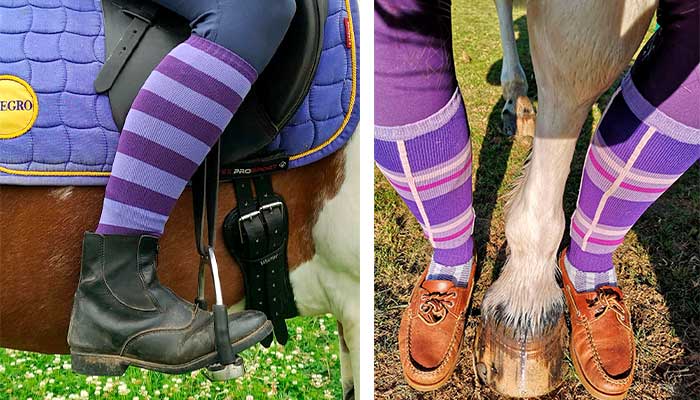 The name really sums up cool horse socks to a tee. It's pretty much what it says on the tin, Cool being two types of cool the non-sweaty feet type and the funky and quirky cool, designs and colours which they have many to offer. Also making the supermarket run after the yard a lot more stylish than the occasional odd sock or Christmas socks in March
Being a purple lover you can probably tell I have most of the purple collection. I bought a pair in May and recently purchased another pair at Longines Royal International Horse Show at Hickstead. A breezy and drizzly day not really shorts weather like the Thursday where it was 30 degrees, so the socks doubled up as legs warmer too, It was a very fashionable look, as I must admit I had lots of people looking at me in shorts, socks and deck shoes. I like to think they were all jealous of my amazing purple starred socks.
The socks are made up of Coolmax© technology and have micro-mesh venting for that extra bit of breathability. I can honestly say that in the hottest of weather being 29 degrees this summer, I have had cool feet and the sweat was wicked away without having that horrible sweaty and hot feet feeling in your riding boots or even yard shoes. Even with the socks over my riding leggings my legs were a lot cooler than other types of long riding socks. The padded soles really do give you that extra comfort as if you are riding in your favourite pair of trainers or even slippers. Compared to other long socks around the foot they have snug fit not a horrible baggy sock fit which you can feel moving as you are trotting down the centre line.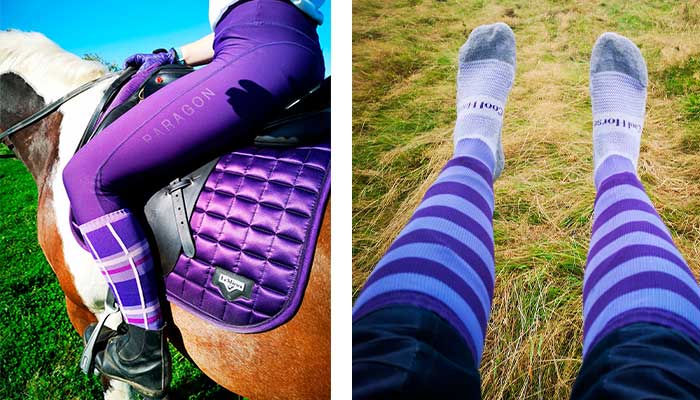 There are a wide range of types of socks from short socks which are perfect for short boots kinda days, to competition socks which are a little bit lighter than your normal everyday yard sock. I bet you didn't know they did horse socks, not socks for horses but tail socks. These can be huge saviours if you have a white tail like my horse or even if your mare is in season, they are perfect for travelling to training and more so competitions. I even have a pair of their trainer socks which I must say I highly recommend even for around the yard in your trainers or for keeping your training topped up they get rid of the moisture very quickly.
They even do custom socks so perfect for pony club and riding club team, as I mean who doesn't love a little matchy matchy?
The best part about all of this is that this is a family run business and all the socks are manufactured in the UK. I'm sure I am not the only one who is a huge lover of supporting small British brands, especially when they are the nicest people. I was lucky enough to meet Katie when I was at Hickstead and I can honestly say she was really passionate about her business and customers.
Hope you have enjoyed my little guest blog, I would like to say a huge thank you to Cool Horse Socks for letting me feature. If you wanted to see all the rest of my purple collection of socks and coloured horse and rider related posts, please be sure to check out my Instagram:
https://www.instagram.com/gemeventing/?hl=en
Thank you all, hope you love your cool horse socks as much as I do.
Cover photo is from Sweet images.